Discussion Starter
·
#1
·
Spark's MyLink radio doesn't have voice recognition and is a pass-through to a connected smartphone.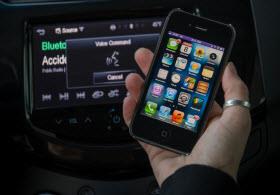 Voice recognition is not only getting better, it's being offered on more new vehicles, even on low-priced cars. It's also an automaker's answer to driver distraction, since the driver's eyes and hands can stay where they should be, all while operating today's increasingly complex infotainment systems.
But VR costs money, which is why Chevrolet decided to forgo adding it to the MyLink radio on its entry-level Spark and Sonic models. Instead, the radio uses VR capability on a connected smartphone, although in most cases, it's only for phone calls.
The hardware setup in the 2013 Spark I recently tested is the same as in a car with embedded VR. It has a steering-wheel button to issue a voice command and a microphone in the headliner to pick up a driver's voice, and the audio from a phone call plays through the car's speakers.
But after pushing the VR button, instead of a spoken command going to an onboard "voice engine," it goes to a smartphone connected via Bluetooth or, in the case of my iPhone, through a USB cable. The smartphone processes the command and calls the appropriate number or contact in the phone's address book.
Using an iPhone 4, I found that it works about as consistently as most embedded VR systems, which means it can be hit or miss. Check out the video below for an instance of when it's accurate -- and the one below that for when it's not.
If you have an iPhone 4S or 5, the Spark and Sonic can use Apple's new Siri Eyes Free feature, which does more than make phone calls. Press the same button and Apple's "voice assistant" lets the owner listen and reply to text messages, check calendar items, call up music from an iTunes library and get an answer to most queries that don't require Siri to display a webpage.
The MyLink radio in the Spark is essentially a pass-through for the smartphone for not only VR, but for many infotainment features and functions. It doesn't have a CD slot, for example, only an AM/FM/XM tuner. Instead, it gets infotainment content such as streaming music through applications such as Pandora and even uses the 99-cent navigation app BringGo instead of a $900 built-in system.
Of course, if you don't own a smartphone, that steering-wheel button will be useless. But as automakers struggle to keep up with the pace of consumer-electronics​ technology and as smartphone ownership becomes the norm, the Spark MyLink radio likely represents the future of automotive infotainment -- and one that increasingly relies on connected portable devices running the latest software.
Car Tech Spotlight: Talking to your smartphone with the Chevrolet Spark - MSN Autos