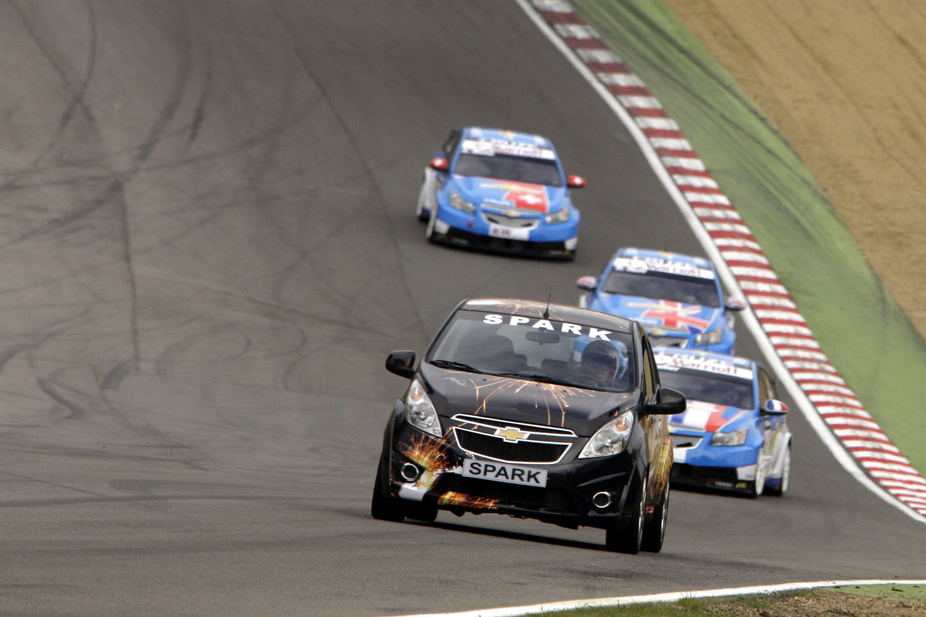 At this weekend's World Touring Car Championship (WTCC) race in Brands Hatch, the Chevrolet Spark received a new livery, a work from a 30-year-old Portuguese student from an applied arts school in Portugal. José Rocha designed the looks for the Chevrolet Spark as the winner of the 2010 Young Creative Chevrolet contest in Europe. His prize was to spend two full days with the WTCC race team and witness his design featured on WTCC lead car at the races in Brands Hatch, U.K.
José was received on Saturday in the paddock by Eric Nève, Chevrolet Motorsports Manager. He was introduced to the whole team and got to take a closer look at the car decorated with the livery he had designed. He then watched the qualifying and made a tour to the pits of the Chevrolet team, seeing the work of the racing engineers and mechanics on the WTCC Cruze race cars. The Portuguese student also had an opportunity to take a hot lap each with the WTCC car driven by Rob Huff.
"I love racing, the atmosphere and the excitement around the cars and drivers. I was so thrilled about coming to Brands Hatch to see "my car" on the track for real and not just on paper. What a unique experience! I really enjoyed meeting Eric and the whole racing team who all made me feel very welcome and also showed great interest in my project. The hot laps were absolutely great, I had a blast," said José Rocha.
Talking about the initiative Eric Nève, Chevrolet Racing Manager, said: "This is the third time we are revealing the winning Young Creative Chevrolet visual art project on the track at a WTCC race. It is really great to see the enthusiasm and interest in the decorated car by the race teams, the visitors, the media and the organizers, but the most rewarding moment for us is when the students sees "their" car for the first time in reality. The contest is truly a win-win situation: The students get recognized for their outstanding creativity, and the art element makes Chevrolet and the WTCC interesting to people who may otherwise not be in contact with motor racing."
The pan-European "Young Creative Chevrolet" art contest was launched by Chevrolet Europe in 2007 and has taken place annually in cooperation with applied arts schools across Europe. In 2010 the competition received applications from 135 schools in 20 European countries in four different disciplines: Fashion, Photography, Visual Arts, Video, and Music.