Discussion Starter
·
#1
·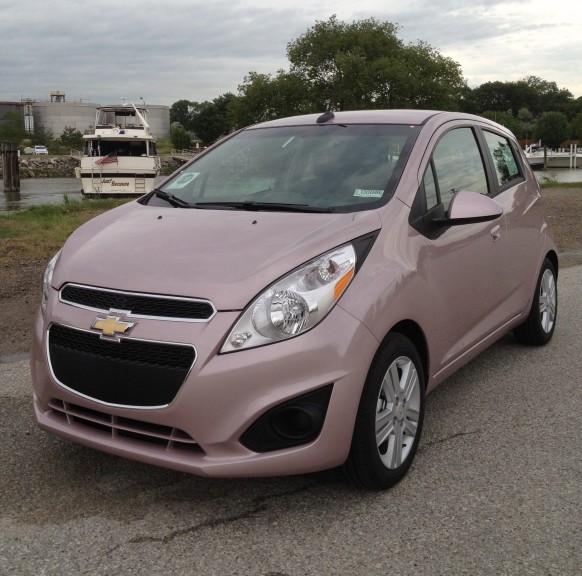 I was once at a house party, Camaro and Corvette were busy constantly attempting to prove their dominance via arm wrestling and foot races, while trying to hook up with Cruze and Malibu in between testosterone outbursts. Meanwhile Silverado, Suburban and Tahoe were sitting around a bonfire, beers in hand, talking sports and yelling out that nobody else would be around if it wasn't for them. Volt was showing off the latest smartphone he just waited 18 hours in line and drastically overpaid for, while Equinox and Traverse headed home early because their kids have morning swim practice. Sonic was busy attempting to impress people by showing how many marshmallows he can fit in his mouth and skateboard tricks, while Impala and Colorado were no-shows.
Then came the
Spark
. Late to the party because it had just arrived from a trip around the world, but quickly became the center of attention as the others were curious about what it's like to fit in a mall parking spot sideways. Besides, little characters dressed in bright colors tend to be less intimidating to talk to, anyways.
Four-Wheeled Chihuahua
And when I say little, I mean it. Lose 323 pounds, crop off about 14 inches of length and roughly four inches of width from the B-segment
Chevrolet Sonic hatchback
, replace the exposed quartet of headlamps with a pair of anime-eye-proportioned lights, and
opa!
A Chevy Spark. Oddly enough, the Spark is slightly taller than the Sonic by just over an inch. The Spark also features the same amount of airbags as the Sonic. But definitely not the same powertrain.
This little ankle-biter comes with a 1.2-liter engine rated at 83 horsepower to the crank, meaning that there's an even smaller amount of horsepower transferring to the wheels. With that amount of output, it would take the horsepower of nearly eight Sparks to match the grunt of one Corvette ZR1. And just when we thought GM would never launch another car in America with a four-speed automatic ever again, our Techno Pink tester had one (a five-speed manual being standard).
Then again, the Spark was never drawn up to be sprinter. Rather, it's reminiscent of a clown fish in that its natural habitat is the slow-moving, crowded, colorful and cluttered coral reefs that are today's modern cities. Venturing out of them and into the vast open road reveals that the car requires a shot of patience to achieve highway or even interstate speeds, while returning an EPA-rated
38 mpg highway
. Yes, both the larger
Chevy Sonic
and Cruze will outperform it in highway fuel economy, but considering the Sparks superior city rating of 32 mpg only further justifies that the sub-subcompact is better off weaving around yellow Crown Victorias downtown on date night than anything else.
High-Tech, Not High-Budget
Other cars in this segment tend to have their interiors barren of any form of technology or infotainment, let alone necessities like climate control. Thankfully, the Spark counters this stereotype with an attractive touch-screen on the center console complete with Chevy MyLink, Bluetooth, Sirius XM satellite radio, and GPS capabilities via the
GoGoLink app
. Yet the ease of use wasn't as optimal as it should be.
For instance, f I wanted to adjust the volume I had to push the button. Again. And again. And again. Or I had to hold my finger down, where in doing so the volume setting would over-adjust either too low or high. If I wanted to tune to a radio station (without using MyLink's voice command), I had to swipe a touch sensitive horizontal dial for FM, which was frustrating to get just right if I didn't have it preset.
It just leaves me wondering: what was so wrong with knobs in the first place? Were they too analog? Cumbersome? Dated? We may never know. Conversely, the Spark's cabin provides a dose of quiet that isn't expected in this segment. Secondly, the discreet 5-door setup akin to that of the Sonic allows for easy entry into the second row, which is as tight as you would expect. But the 31.2 cubic feet of cargo room gives owners an element of versatility that is more that triple that of the Fiat 500, while coming in at a more reasonable base MSRP of $12,245. Though we would suggest at least going for the mid-range LT model for the sake of necessity. Oh, and 15-inch 5-spoke wheels are standard. Not hubcaps.
Wiggle Room
Piloting the little Spark around paints a clearer picture as to how big highway roads really are, and just how massive most modern cars have become. But the real fun in cars like these is parking in places other vehicles can only dream of. It will wedge itself into pretty much any opening, granted a parking ticket is not in order. Testing the limits of just how tight of a squeeze the Spark can get itself into turned out to be quite entertaining, not unlike avoiding the gas station with a Chevy Volt. And because of its energetic looks, the Spark will catch the attention of passers by, despite being so tiny. Or maybe it's just because this one just so happened to be a reserved a blush of pink.
It would be interesting the read the minds of middle-aged rural Michigan residents passing by the Techno Pink Chevrolet Spark in their burly pickup trucks sharing the same bowtie badge. At the same time, 19-year-olds performing kick-flips at the skate park gave it a glance, and twenty-somethings enjoying frappucino outside the coffee shop also stopped for a moment to stare with curiosity. A
pink
Chevrolet? That's right, ladies. And it comes it yellow, too. But not orange for some reason.
All in all, the 2013 Chevrolet Spark possesses enough versatility and personality to overlook its anemic power and seemingly awkward digital controls — at least from what we could gather from an afternoon with it. We hope to spend some more time the Spark again soon. We'll make a party out of it.
What It's Like To Drive A Techno Pink 2013 Chevrolet Spark (First Drive) | GM Authority